When you consider the idea of sitting in a Hawaii jail, the idea of getting bailed out is essential. How bail bonds work in Hawaii offers an insight into getting the best deal on your bail and how to work with a bondsman in Oahu, Waikiki, Maui, Hilo and any other areas of Hawaii.
How Hawaii bail works is simple. The bond premium is 10 percent and is set by Hawaii law. This means that if bail is set at $10,000 then the defendant would pay the bondsman $1,000. If you have good cosignors on the bail contract, the bail bond company may set up payment plans and even zero down bail. This 10% premium is non-refundable.
If you or your family decide to pay the entire bond amount, the "cash bail". The you would not need the services of a bondsman. The cash bail you pay will also be 100% refunded to you after the trial has been completed. Now you can use online bail bonds to get a defendant released even faster from any jail in Hawaii
How Much is Your
Hawaii Bail

?

Depend on one of the largest Hawaii bail companies with flexible payment plans and terms available. Enter in the total bail amount needed to determine your approximate bail costs of find out if you're eligible for a bail loan:
The concept of bail in Hawaii
The concept of bail bonds in Hawaii is that it is applicable to help a person regain their freedom during a criminal case. A bail is set to ensure the defendant will come to all court appointed meetings, abide by the judges rules and attend the trial. During the course of a criminal case the state's legal authorities such as the police or any other similar authorities may require to arrest a person in order to help in the trial process.
During the trial process, the accused gets a chance to defend himself. During this time, it is presumed that the accused is an innocent person until otherwise. A person can only be called a convicted criminal once the case against him or her is proven beyond any reasonable doubt.
A person who is undergoing a criminal litigation in Hawaii may wonder how bail bonds work in Hawaii?
The answer is that only after a court of competent jurisdiction would grant an order of bail then the bail bond would be executed. The bail bond is basically a financial arrangement that is made where a person stands as surety before the court on behalf of the accused person. The surety assures the court that in case the accused person does not appear before the court than the surety shall pay a certain amount before the court. Such people who stand as surety are known as bondsman.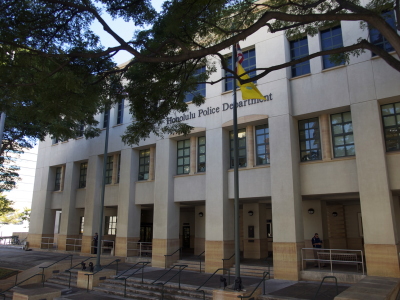 Here we may find that generally the court usually determines an amount that would have to paid only in case of default. However, the courts have the power to ask for the deposit of a certain amount of money with it as well.
A Hawaii bail bondsman, who would execute such a bond would generally ask for some money for his service. It is akin to insurance underwriting where the underwriter has to pay the amount only in case there is a problem. The problem here being that the defendant who signed the contract has not met their legal obligations (skipped bail).
However, when the amount of the bail bond is calculated very high, then the bondsman may ask for a larger premium amount for his service due to the fact that there is a high level of risk.
The bondsman may also ask that you surrender to a GPS tracking device or cell phone tracker. It is also important to maintain good terms with the bondsman as well. If the bondsman starts to feel at any time that there is chance that the accused to run away then he may be at liberty to take back the surety given. This could cause the entire bail to be cancelled and the person could be put behind bars.
If my Oahu bail is $150,000, how much should I pay?
We get questions about bail prices in Hawaii all the time. To help calculate your bail, we've set up a simple bail schedule. Below is a simple table to help you better understand the premium rates for bail on the Big Island of Hawaii. Here, we will calculate bail using a standard premium rate of 10%:
| CASH BAIL AMOUNT | PREMIUM % | BAIL COST |
| --- | --- | --- |
| $1000 | 10% | $100 |
| $5,000 | 10% | $500 |
| $10,000 | 10% | $1,000 |
| $20,000 | 10% | $2,000 |
| $50,000 | 10% | $5,000 |
| $100,000 | 10% | $10,000 |
| $150,000 | 10% | $15,000 |
| $250,000 | 10% | $25,000 |
| $500,000 | 10% | $50,000 |
| $1,000,000 | 10% | $100,000 |
What about Bail Bond Laws in Hawaii?
If you have any other inquiries relating to how bail bonds work in Hawaii, please look through our directory of Hawaii bail bondsmen; they never charge to answer important bail related questions. Hawaii bail bond laws are equally important to understand. Knowing how bail bonds work and what the laws are for bail in Hawaii is equally important. Click to download a free copy of bail bond laws in Hawaii or you can read through Hawaii Chapter 804 bail code.
Video: How Bail Bonds Work in Hawaii Information
Hawaii Bail Bonds FAQ
Can I get zero down bail in Hawaii?
Yes. Ask your Hawaii bail bonds agent about zero down bail. They may want more cosignors on the contract who have jobs and own their own homes
How do I get online bail bonds in Hawaii?
A bondsman will send you bail bond forms and you sign and send them back. Some Hawaii bail bondsmen have online bail forms where you sign and submit. The online bail bonds process helps when the cosignor is not in the state.
Do I get my money back when I pay for bail in Hawaii?
The short answer is no. You will not get your 10% premium returned to you. There are no refunds when it comes to paying a Hawaii bail bondsman. The 10% premium you paid is a fee to use the bondsman's service. Consider that if you cannot afford 100% of the cash bail, a bondsman is a great alternative.
Conclusion
How bail bonds work in Hawaii is simply method of calculating your bail amount by 10% and following rules of the contract. You need to find a good bondsman and also be a good defendant. Attend all your court hearings and follow the rules of the judge and the bondsman.