How Bail Bonds Work in Texas The Easy Way
When it comes to understanding how bail bonds work in Texas; co-signors should know that the bail bonds process, fees and oversight is typical in Texas as in most states. The bail bonds Texas authorities use to release those arrested from jail before their court date has been in place for many decades. Understanding how the bond process works along with the charges and fees associated with bail bonds is very important so that you will know what to pay and who to pay.
How bail works in Texas is simple. In order to get out of jail you or a cosignor will need to pay a fee to a bondsman which is usually 10% of the entire bond, called the premium. The pros of using a Texas commercial bail bondsman over paying the state the entire bond is that you save 90%. The cons are that you don't get that 10% back.
The Bail Bond System in Texas
When a person is charged with a crime and taken to jail, there is a booking process that will usually last for an hour or two before the defendant is given a court date where they will face their charges. At this point, the individual may choose to remain in jail until their court date or get a bond to post bail. If they choose the latter, they will need to contact a licensed county bail bond agent or have a friend or family member do so for them.
In Texas, there are three ways a person can get out of a police or county jail;
Released on Own Recognizance (ROR) – use for petty crimes and often when the court believes the offender will show to all court appointments – zero cash type of bail
Cash Bail – the defendant pays the full bail amount in cash, credit card, cashiers check to the court for release.
Surety Bail – this is the preferred method of bail in Texas. You simply pay 10% of the bail to a bondsman, saving you 90% to use for other bills.
Property Bond – You allow the court to place a lien on your property as opposed to cash bail.
Citing Out – This is usually a ticket or citation written by police or sheriff to state the defendant must appear in court.
Jail Break – Sure you might get away for a minute or so (which in Texas almost never happens or goes to plan), but then you're going back to jail with more charges.
Being released on their own recognizance does not require any money being used for bail purposes. The defendant simply signs a note stating they would return for any and all court appearances in the county. A cash bail means that the full amount of the bond is paid for in cash to the jail or court. While you will get a 100% refund of your money, this is a costly option.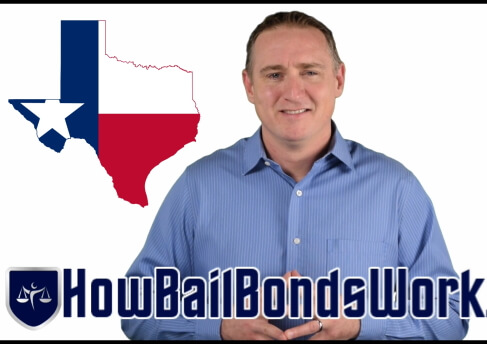 However, most cases generally use a surety bond which is arranged by a bail bonds agent. This will require a preset premium being paid to the agent and the bail will be covered by the company. At this point, the bail bonds agent is now responsible for the person getting a surety bond to appear in court at the appointed time.
Bail Bonds Charges & Fees in Texas
As with most states, the Texas bail bonds agent will charge a 10% fee of the total amount of the bail that has been set. So, for a $5,000 bail, a $500 fee will have to be paid. The fee is non-refundable and will provide a defendant with the money needed to make bail and be set free until their court appearance. Bail bond agents in Texas do not necessarily need to be paid in cash as some take credit cards or use collateral to help secure the bond. Some bondsmen can even accept Western Union Money-Grams to receive payments from out of state co-signors.
The collateral generally falls to vehicles, real estate or other valuables which can be re-sold for the total amount of the bail that was set. Once the court appearance has been made, the collateral is returned to the individual, although the 10% fee is still non-refundable. Many bail bond agents will also provide loans to cover the 10% if needed and re-payment will be based on collateral or a set payment schedule.
If you're the cosignor just know that if the defendant skips bail, you will be responsible for paying the bail bonds company the full cash value. Example: If the bond was set at $10,000, you will owe the bondsman $10,000. More than likely, a lien will be filed against any and all property you mentioned as collateral in the indemnitor contract.
As with any Texas bail bond, co-signors and/or defendants needs are finding the most reputable bail bond agent will be very important, so it pays to do a little research before making a commitment. Keep in mind that all bail bondsmen must be licensed within the county they are providing bail services in.
Texas Bail Bonds Are Different Per County
Each Texas bail bonds company can only write bonds in the county in which they are licensed. A bailbonds license does not extend throughout the state as is typical in most US states. Each county a bondsman wants to operate in they must be licensed through that counties Bail Bond Board.
If a bail bondsman outside of the county where someone is incarcerated has quoted your bail, be cautious. Often, a bondsman may sell the bond to another bail bonds company in your area. Be sure you are signing your Texas bond with the company who you've been dealing with. Never sign a bond with a company that cannot do bail outside of their authorized county.
There are Texas bail bond laws every bail bondsman and attorney (yes, attorneys can also write bail) must follow within that county.
A person who needs Texas bail can also contact the local county bail bond board website for information. Or by visiting the local bail bond association in that county. To see the bail bond assoc in Hidalgo county, Texas, visit Hidalgo County Bail Bond Association | HCBBA
It is always a good idea to look up the bondsman's information on the county bail bond board website. Don't always look at company reviews as most business reviews nowadays are fake. The local Bail Bonds Board will always have a listing of the companies allowed to post bond.
Video:
How Does Texas Bail Work?
Don't Violate Texas Bail Conditions
Your Texas bail bondsman will explain the rules to your bond and may even have you sign an acknowledgement form alerting you to the company rules. These rules are straight forward and help you stay on track with your court appointments. Some of these rules include:
Do not get arrested again
Go to all court appointments
Check in weekly with the bondsman
Adhere to all of the court imposed bail bond conditions:

No Weapons
No Alcohol or Drugs
No Driving Without A Valid Driver License
Random Urine Tests
Random Breath Alcohol Tests
Possible GPS Monitoring and/or Home Monitoring
May not be allowed to travel a certain distance from home
Substance Abuse Monitoring (Electronic or otherwise)
FAQ
Can I get 0 down bail bonds? You can with good cosignors and longevity in the community.
Can I leave the state when on bond? This depends on rules of the court you have to follow.
Do I get my money or collateral back? At the end of your court [proceedings the bondsman will release any liens and/or send you a check for collateral that may have been posted. No, you od not get the bail premium you paid returned, that is a fee.
Are there pros and cons of Texas bail?
The pros of knowing how bail works in Texas are that you only have to pay 10% of the bond allowing you to use the money you saved on rent, a lawyer or other bills you may have gotten when arrested (example: if your car was towed). The cons are that the money you spent on the bond is a fee you pay to the bondsman and you will not get this money returned.
Simply this, understand the bail conditions and abide by them. How do online bail bonds work in Texas? The Texas bailbond agent will post the bail electronically once the 10 percent premium is paid. The bondsman then guarantees the full amount of bail to the county they're licensed in. The rules still apply whether its a zero down bail bonds, online bond or walk in bond; if you don't abide by the rules of the bond company or the court you're going back to jail.
---
For more information and to learn more about how bail bonds work Texas residents may consult with the Texas Department of Insurance website. This is the part of the state government that oversees bail bond agents and insurance companies.