About Bail Bonds in the United States
Wanting to know more about bail bonds in the United States? Bail bonds began almost a thousand years ago and to this day is still in use to help people get out of jail to begin the their legal battle. Commercial bail, we believe, began in or around 1898 by brothers Peter and Tom McDonough in San Francisco. How Bail Bonds Work takes great pride in the services we provide for the communities all across the United States.
A bail bond is an amount of money needed to be released from jail. A contract signed by a criminal defendant to appear for all court appearances or forfeit the bail they've paid. The bail bond is an insurance document cosigned by a bail bondsman. This charge, called the premium, is a fee in return for guaranteeing the full bail amount.
We understand that our readers can go anywhere else to have someone answer their bail bonds questions. We don't write bail nor are we attorneys or provide other legal counsel. We simply help people connect with bail bondsmen in their area, and of course answer all bail questions as fast as possible. We know that having a friend or family member sitting in jail can make one wonder and worry about their safety.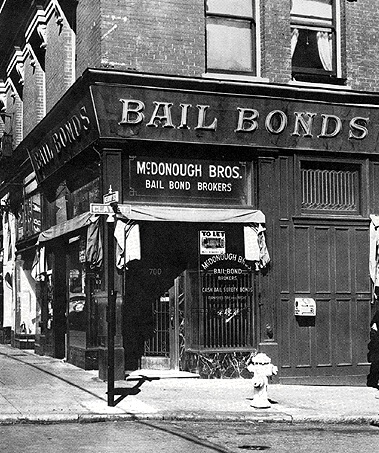 We also understand that the members in our community may at some point need bail bond services and need to get a friend, family member or co-worker out of jail quickly, which is why we created a way for you to ask a bail bonds question.
Having bailed thousands of people out of local and county jails, bail bondsmen understand the worry most families feel when their loved ones are behind bars. This is why bondsmen act as fast as possible when you call them. A good bondsman will also keep their clients informed of the process and let them know each step of the bond process and what has been completed; and most importantly, when the defendant will be released.
Zero Down Bail Bonds?
A zero down bail bond simply means you put nothing down on the bond and you will then make payments to the bond company. This is usually only allowed when the co-signor or defendant has good credit, is not a flight risk and has standing in the community.
Online Bail Bonds?
Online bail bonds aren't new, its just a new term coined by clever marketers. A bondsman can post your bond online to another bail agency in your area, or they can even do a fax to phone service on your bond.
Using a bail bondsman is made even simpler when looking up the closest, most responsive bail agent in our directory. You can request a free consultation from a professional bail bond agent and see what is involved in the process for the jail where your friend or loved one is incarcerated.
The 8th Amendment of the US Constitution protects the rights to bail.
Bail Bondsmen in the US
Everything you wanted to know about bail bonds agents in the US is covered right here at How Bail Bonds Work. The bondsmen you talk with pride themselves in keeping all matters discreet and private. Contact your local bondsman for more information about this free bail bond consultation.
Thank you and we look forward to answering your #bailbonds questions in your time of need.
---
At How Bail Bonds Work, we are committed to ensuring that individuals with disabilities enjoy full access to our website. We are presently in the process of making modifications to increase the accessibility and usability of this website. We're using the relevant portions of the Web Content Accessibility Guidelines 2.0 (WCAG 2.0) as our standard. Please be aware that our efforts are ongoing. If at any time you have difficulty using this website or with a particular web page or function on this site, please contact us at accessibility@howbailbondswork.com, provide us with your contact information, and we will make all reasonable efforts to assist you.